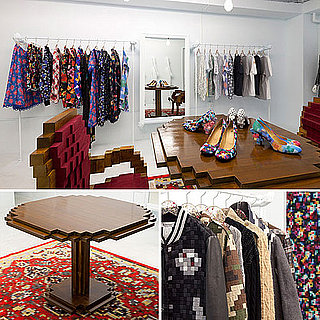 Oct 25 2011 - 3:15am
Our passion for the lo-res aesthetic of pixels and eight-bit beauty isn't going anywhere regardless of how advanced our digital lives become. For his Fall/Winter 2011 collection, Japanese designer Kunihiko Morinaga took a different take on his clothing label Anrealage season's prints by transforming familiar florals and color blocking into pixel-style cubes.
Kunihiko takes his concept one step further, with the theme carried over to the Anrealage store in the Harajuku neighborhood of Tokyo. Every last detail is a piece out of a pixelated video game dream; from the clothing collection to the large floor rug and the wooden furniture down to the lightbulbs has a touch of lo-fi inspiration. Check out more views of the shop in the gallery, and a peek at what can ordered for home use this Winter.