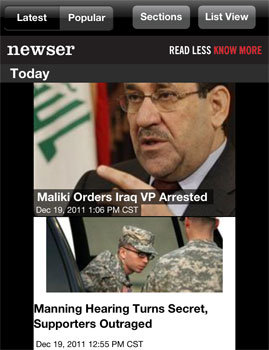 Want to quickly get world news in the palm of your hand without shuffling through an undermanaged and wordy RSS feed? Download the
Newser app
(free). Drawing from the best news sources on the web including CNN,
The New York Times
,
USA Today
,
The Wall Street Journal
, and BBC, Newser editors condense the news into bite-sized articles that you can read on the go.
Get stories in the customized grid format, or view in an easy-to-digest list, plus share with friends via email, Twitter, or Facebook, and browse through photo galleries with a few swipes of a finger. Just like Newser's tagline, you can read less and know more. Who can argue with that?