Now that it's available on iOS and Android (for free, mind you), Snapseed may eventually upstage Instagram as the primo mobile photo editor. It's a sophisticated app with advanced editing tools and beautiful filters. And, as of September's Google acquisition, it's working on its own social network.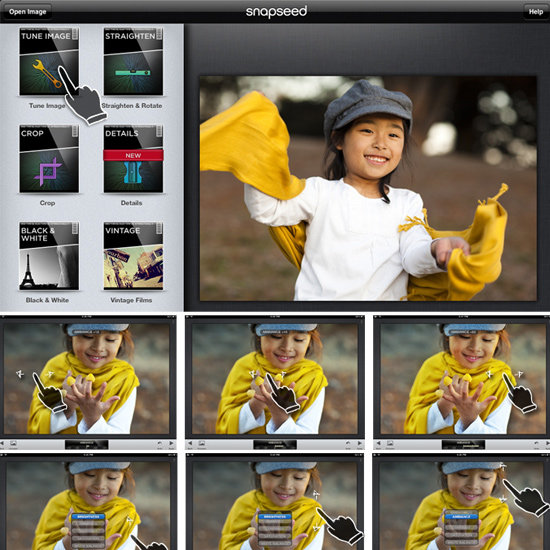 Yesterday, the app shocked longtime users when it dropped from $5 to, well, nothing. The update includes a new icon and, of course, built-in Google+ sharing functionality. But there's lots more to love about mobile Snapseed, which also has a fantastic desktop app. Here are six reasons why Snapseed will be your next go-to photo editor. Plus, what do you have to lose? It doesn't cost a thing.
Sharing — Like with any ol' photo editor, your edited images can be shared via all major social-media networks — Twitter, Facebook, and Google+ — and unlike the rest, Snapseed will open your photo in Instagram, iPhoto, Tumblr, and Dropbox.
RAW file readability — You'll need a Camera Connector Kit, but this is a huge plus for professionals.
Adjustment tools — Autocorrect, tune image, rotate/straighten, crop, and detail sharpening are at your disposal. There's Photoshop-grade granular controls for each tool too.
Are you still not satisfied? See more fantastic features after the break.