When the Oscars go live at 5:30 p.m. EST / 2:30 p.m. PST, you can feel like you're right there on the red carpet, rubbing shoulders with Jennifer Lawrence and Ben Affleck, with an at-home, do-it-yourself Dolby Theatre.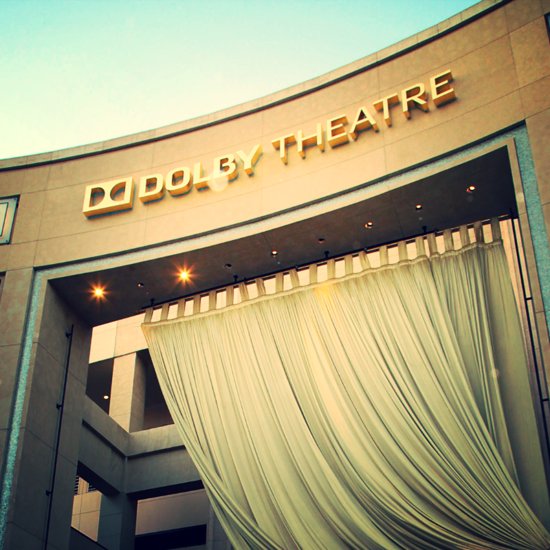 A successful home theater system is a complete audio and visual experience. If you've got a big-screen-display-and-audio set ready to be installed, we'll show you how to set up an Academy-Awards-worthy home theater for your Oscar-viewing party — or, with a little bit of accessorizing, tinkering, and feng shui rearrangement, how to create one with existing equipment.
The Home Theater Trifecta
TV Display — You'll need a big screen to watch the red-carpet bonanza and tearjerking acceptance speeches unfold. Large TV displays can cost a fortune (remember all of those quadruple-digit price tags at CES?), but there are solid smaller-size models that don't cost an arm and a leg, like the 32-inch Samsung UN32EH4003 ($284).
Cable or Satellite — We've been talking about cutting the cable cord in favor of a media-streaming device like Roku, but those TV boxes are pretty useless for watching the Oscars. ABC won't stream the Academy Awards online, so you'll need a cable or satellite subscription this time around. Basic antennas [RCA Basic Indoor Antenna ($9)] are fairly cheap, however, and can be found at Target, Best Buy, Amazon, and other big-box retailers.
Surround Sound — A good audio system can make you feel like you're in the audience next to George, Matt, and Brad. Ideally, a surround-sound experience needs two side speakers, two rear speakers, and one center front speaker. You can buy a complete theater sound set [Yamaha YHT-397 ($300)] or fashion your own with existing speakers using a male-to-male audio cable [Mediabridge 3.5mm ($8)] and an audio splitter [Belkin Splitter ($2)].
Read on for proper placement technique (red carpet may be necessary) and how to take care of your home theater once it's set up.